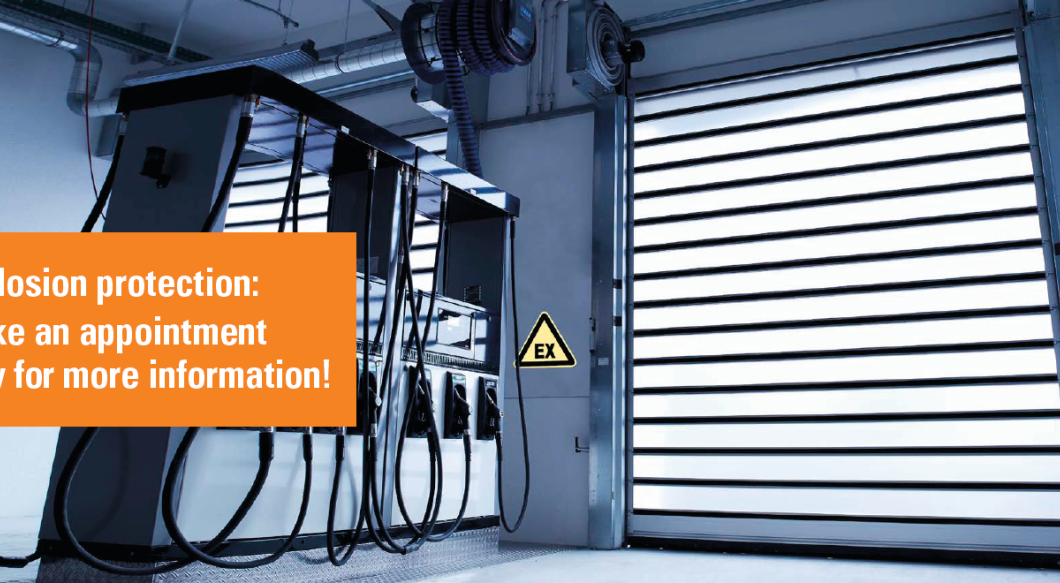 EFAFLEX ATEX doors: spark protection at its best
These are highly critical, even life-threatening situations: Oxygen and explosive matter mix in the air and with just a single spark, the combination explodes. Fires and pressure waves caused by explosions repeatedly cause major damage in factories. Special safety regulations therefore apply in hazardous areas: among other things, equipment, machines and all installations must be designed so that they prevent sparking from the outset. EFAFLEX manufactures roll-up and spiral doors for indoor and outdoor use especially for this purpose that meet these strict requirements – a reliable solution for every commercial area.
Gas, steam, mist, dust: when combined with atmospheric oxygen, these and other flammable substances can ignite. There are correspondingly vulnerable areas in many industries, including pharmaceuticals, mining, petrochemicals and metal processing. To guarantee comprehensive safety in these explosive atmospheres (French: Atmosphères Explosives, for short: ATEX), standardised directives apply throughout Europe. The specialists at EFAFLEX manufacture both roll-up doors and spiral doors for individual use in accordance with these regulations. In their search for the best product, they spent more than a year researching and developing, and also involved TÜV Süd in the processes. After all, doors should not only provide comprehensive protection against explosions, but also do so at all times in accordance with the regulations.
Safe solutions for explosive atmospheres
Both explosive gases and explosive dust-air mixtures can be responsible for the formation of explosive atmospheres. These two sub-areas are each dealt with separately in the associated EU standards. EFAFLEX has therefore developed its own suitable solution for each of them. Three components are needed to cause an explosion. The first: oxygen. This is always present in the air in sufficient quantities. Second: an explosive medium. The third component is an ignition source – one single spark from it is enough. You usually have no influence on the oxygen content and medium but you can make sure that there is no ignition source. In simple terms, this is the essential feature of these special doors.
All components interact efficiently
The design of the EFAFLEX explosion-proof door systems includes mechanical and electrical precautions so no spark can occur anywhere to cause an ignition. All elements work together and have the appropriate ATEX certificate depending on their purpose and quality. These include the activators and safety. Everything that EFAFLEX installs or attaches directly to the door is therefore safe. All electrical/electronic components used in the door are connected in the control cabinet, which is mounted outside the hazardous area. Each individual door is manufactured in compliance with directives according to customer specifications in the company's own factories. The customer informs the EFAFLEX specialists of the prevailing hazardous situation inside or outside their company premises above ground. They build the door system based on these parameters. Good for the customer: it is available in various dimensions including customised sizes – whether it's for a production plant, warehouse building or paint shop.
Customised features for all purposes
The door systems for these demanding applications are therefore fundamentally different, as they are always adapted extremely precisely to their areas of use. For example, the roll-up door for ATEX applications, EFA-SRT® EX, has a frequency converter and a microprocessor control as standard. In addition, there are dynamic door-blade tensioners, counteracting equipment using springs as well as a hand lever on the door case for easy manual opening, for example in the event of a power failure. It is designed for indoor use and equipped with a likewise certified black, non-transparent ATEX special curtain as well as all-round modern technology. Provision is also made for emergencies: if the power fails, for example, the doors can be opened quickly using a hand lever. The ATEX high-speed spiral door (EFA-SST® EX) can be installed both inside and outside. One of its characteristics is its fixed door leaf, which is extremely fast to open and close. It seals completely tight and also withstands high wind forces at any time.
Proven EFAFLEX quality and customised production
What both door solutions have in common is their inherently high opening and closing speed as well as their durability. They are extremely robust and reliable and can complete millions of openings. In addition, they are designed in such a way that they do not injure anyone when moving up and down and do not cause any damage, for example, to vehicles underneath them or any obstacles that have accidentally got in their way. It doesn't get any safer than this!
Read more

Would you like to find out more about the explosion-proof door solutions from EFAFLEX?
Click here here for more information.