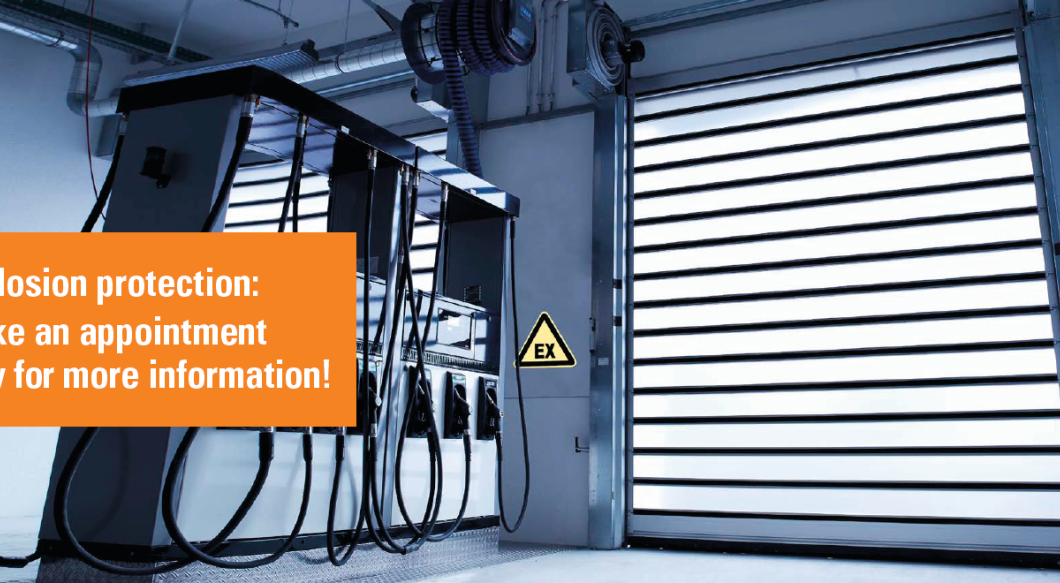 Safety first – with atex doors no sparks jump over
If oxygen and explosive matter mix in the air, a single spark is enough to ignite the combination. Therefore in endangered areas, special safety regulations apply, including with regard to the condition of devices, machines and all built-in components. Specifically for this purpose, EFAFLEX manufactures roller and spiral doors for indoor and outdoor use that meet the strict requirements – a reliable solution for every commercial area.
Gas, steam, mist, dust: in combination with air, these and other flammable substances can ignite. There are correspondingly endangered areas in many industry sectors, including pharmaceuticals, mining, petrochemicals and metal processing. In order to guarantee comprehensive safety in these explosive atmospheres (French: Atmosphères Explosives, or ATEX for short), Europe-wide guidelines apply. According to these regulations, the EFAFLEX specialists manufacture both roller doors (EFA-SRT® EX) and spiral doors (EFA-SST® EX ) for individual use.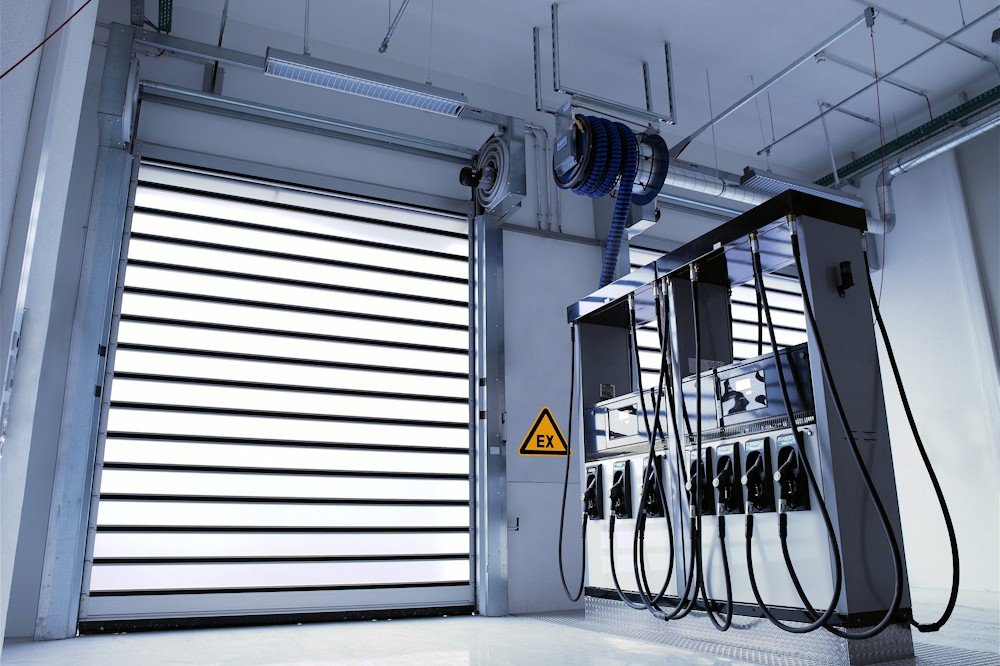 Safe solutions for explosive areas
"There are two ways of being confronted with explosive atmospheres: explosive gases and an explosive dust-air mixture," says Klaus Manlig, Head of the EFAFLEX Sales Academy. "These two areas are dealt with separately in the EU standards. We have developed a suitable solution for each of them. "In order to cause an explosion, three components are required, as the expert explains. First: oxygen. This is always present in sufficient quantities in the air. Second: an explosive medium. The third component is an ignition source – a single spark is enough.
Efficient interaction of all components
The construction of the explosion-proof EFAFLEX door systems includes mechanical as well as electrical precautions, so that a spark cannot occur at any point to trigger an ignition. All the elements work together, as Manlig describes. "In addition to the mechanical, both the electrical and electronic components in our doors are equipped with the appropriate ATEX certificate. These include the pulse generator and other safety systems. Everything that is built in or attached directly to the door is safe." In the control cabinet, which is installed outside of the potentially explosive area, all of the components installed and attached to the door are connected.
Custom features for all purposes
The door systems for these demanding applications are fundamentally different because they are precisely adapted to their areas of application, explains Manlig. The roller shutters, for example, are equipped with a certified black, non-transparent ATEX special curtain and all-round modern technology. Emergency provisions are also provided: if the power fails, for example, they can be opened quickly using a hand lever.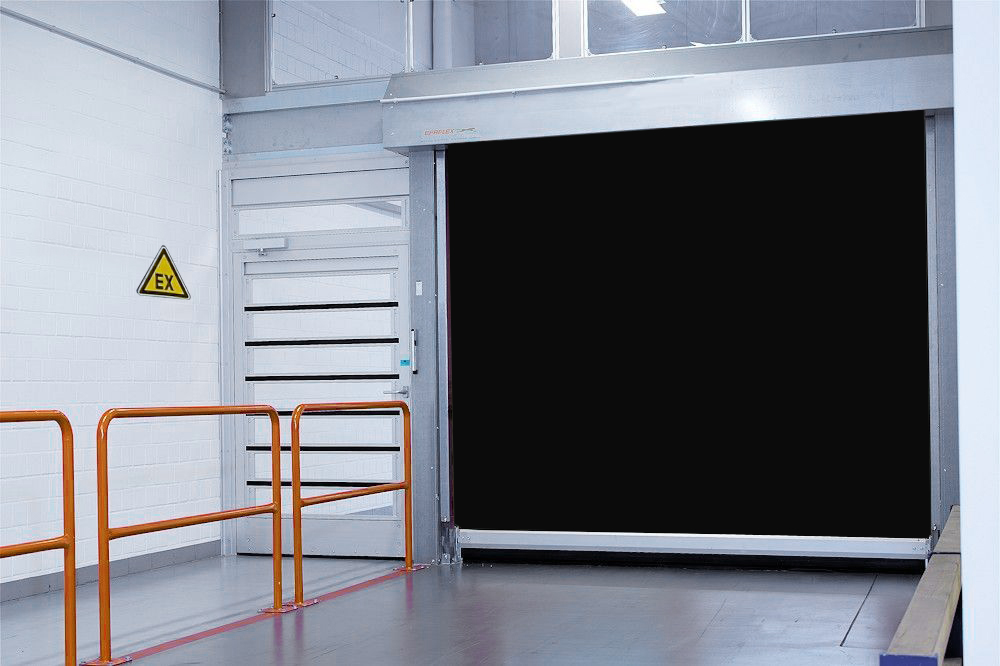 Proven EFAFLEX quality and individual production
What the two door solutions have in common is their inherently high opening and closing speed and their durability, as Manlig says: "Our doors are very robust and reliable. You can realise millions of openings. In addition, they are designed in such a way that they do not injure anyone when driving up and down and do not cause any damage to vehicles underneath, for example. "The development of these systems took about a year together with TÜV SÜD. Each individual door is manufactured in-house in accordance with the guidelines as well as customer-specific. Manlig: "The customer tells us which dangerous situation prevails, indoors or outdoors. We build the door system according to these parameters, which is available in various dimensions including bespoke sizes."
Continue reading
Would you like to find out more about the explosion-proof door solutions from EFAFLEX? Click here for more information.
Key facts:
Year founded: 1974
Sector: construction industry
World market share, number of continents: 6 (Source: 2018)
Subsidiaries in: Belgium, Austria, Slovenia, Czech Republic, Poland, Russia,
China, Great Britain, Switzerland (Source: 2018)
Employees: 1,200 (Source: 2018)