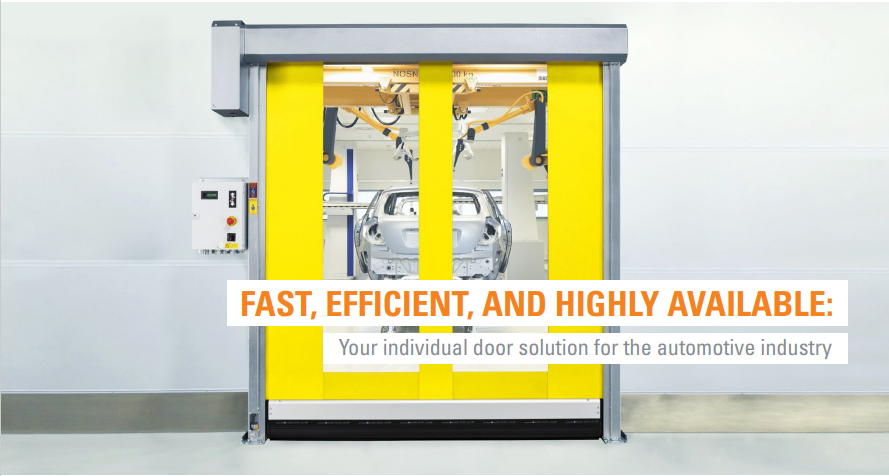 Special doors in the automotive sector
The automotive industry places the highest demands on machines and personnel. With its special doors for the automotive sector, EFAFLEX offers manufacturers and suppliers, among other things, maximum security, high availability, speed, robustness, durability, and high opening and closing cycles. Regardless of whether the door is used indoors or outdoors, in the production areas, in the climate chamber or on the production line. It is not for nothing that EFAFLEX counts well-known German and international groups among its customers. The door specialists find an efficient solution even for the most unusual conditions.
A mechanical arm that lifts a body panel and clamps it into a machine. A welding machine driving along a rail spraying sparks. A production line in which several robots simultaneously stamp devices into car roofs. Another in which paint is automatically sprayed onto bare plastic elements. A production hall in which two side parts are lowered onto a vehicle floor from above. A climate zone in which extreme temperatures, wind, and precipitation act on the automobile for test purposes. A test chamber in which emissions tests and light tests are carried out. "The automotive industry is very much characterised by automation, speed and parallel processes," says Florian Anzeneder, Vice President Sales & Marketing at EFAFLEX, world market leader in the production of high-speed doors. Each area has its own specific requirements: for example, high thermal insulation to keep
temperatures constant; soundproofing to minimise noise levels around the workplace; Blackout to check lighting effects; flexible hangings so as not to damage objects; or transparency to allow insight into the work area at any time.
Protective device separates man and machine
An essential important factor that all door solutions for sensitive areas in the automotive sector have in common is security. Whether welding chamber, climate cell, production hall or robot line – wherever automated machine work takes place, the risk of accidents and malfunctions must be reduced to a minimum. "Our doors act as a separating protective device between machine and person," says Florian Anzeneder. "We can equip them with appropriate characteristics."
Opening only when stationary
Using the example of a press in the production process, he makes the importance of a controllable door solution clear: "Before the skilled worker can approach the machine to put material in, the door has to open – at that point, the machine is switched off. If he leaves the safety zone, the door closes again. Then the press starts and performs its operation. The door only opens again and grants access to the machine when it has finished its activity." In short: the door recognises when the machine is running and only opens when it is at a standstill. Only in this way is the staff reliably protected.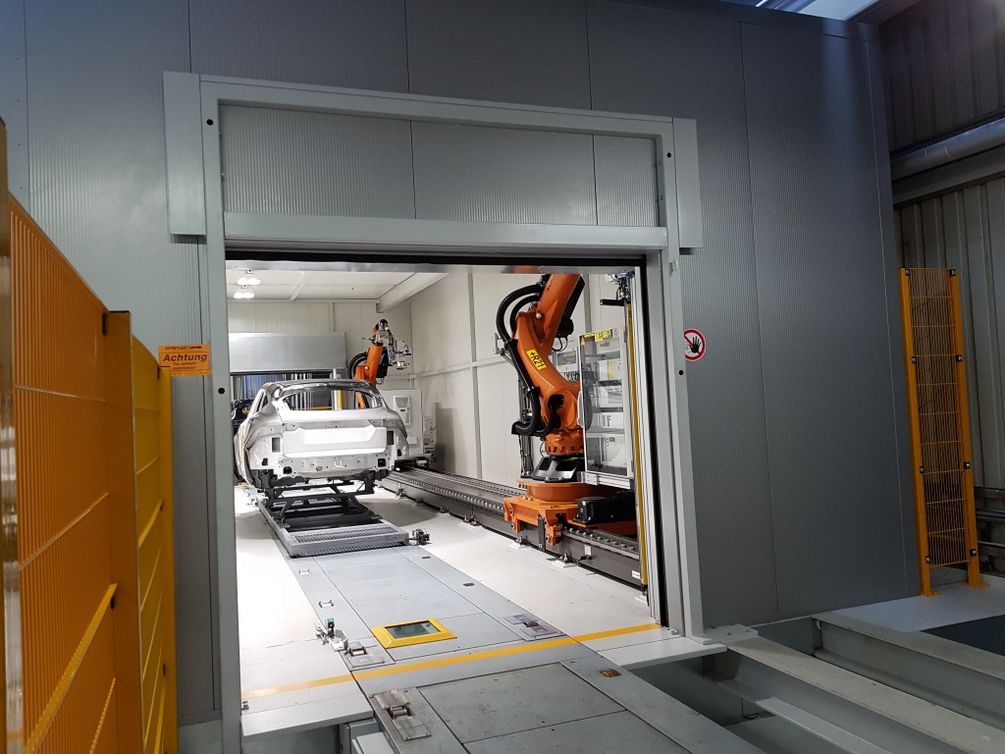 Doors communicate with machines
A prerequisite for such a safe and coordinated process is the possibility of being able to integrate the door into the higher-level control system of the respective machine or system in order to ensure an appropriate signal exchange. According to Florian Anzeneder, EFAFLEX offers specific solutions for the needs of the automotive industry. "This includes special communication interfaces such as AIDA or Profinet Safe. Depending on the requirements, our doors can also stand freely in the room – of course they are just as safe as structurally integrated doors."
High availability as a customer requirement
The availability of the doors is just as important to EFAFLEX customers as security, says Anzeneder: "Smooth processes at the workplace are only possible if the door works reliably over the long term." EFAFLEX's customers include well-known automobile manufacturers from Germany and internationally space and numerous supplier companies. "With our products, we offer the industry alternative solutions. Because we understand their needs and have more than four decades of experience in the field of high-speed doors, we can tailor the doors to any environment and meet the requirements for security, energy
efficiency and process optimisation."
Comprehensive service package thanks to global positioning
Another important feature is the comprehensive service at EFAFLEX available in 65 countries worldwide, says Anzeneder. "We offer our customers the complete package, exclusively with specially trained and certified staff. Unlike other manufacturers in our industry, we do not work with external service providers. In this way, our customers receive everything from a single source."